Smoke
Complexity is beautiful.
---
Smoked with love by textbrowser.
Welcome to Smoke!
Smoke is a completed open source communications project. The purpose of Smoke is to introduce and investigate the Echo protocol on mobile technologies.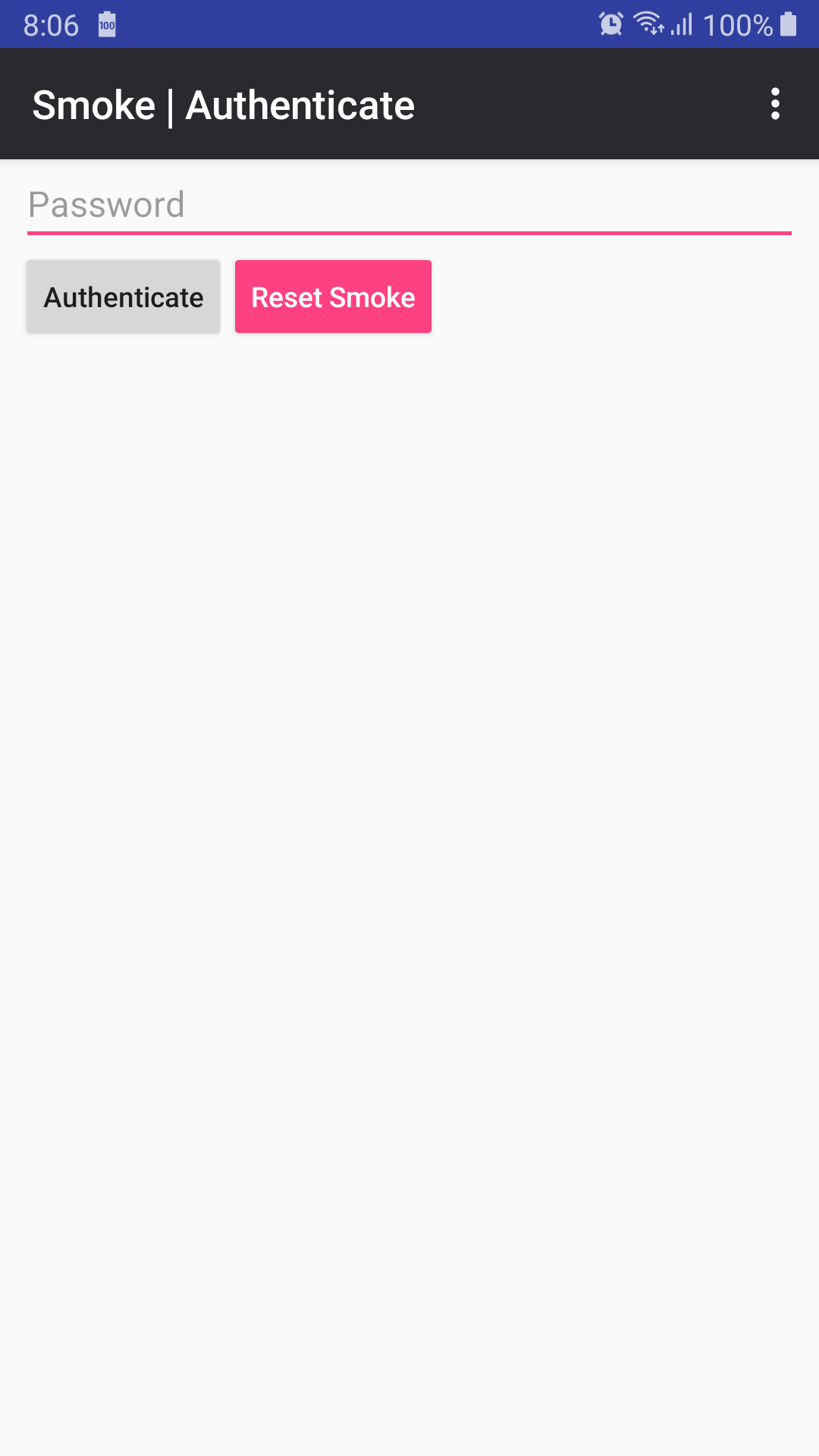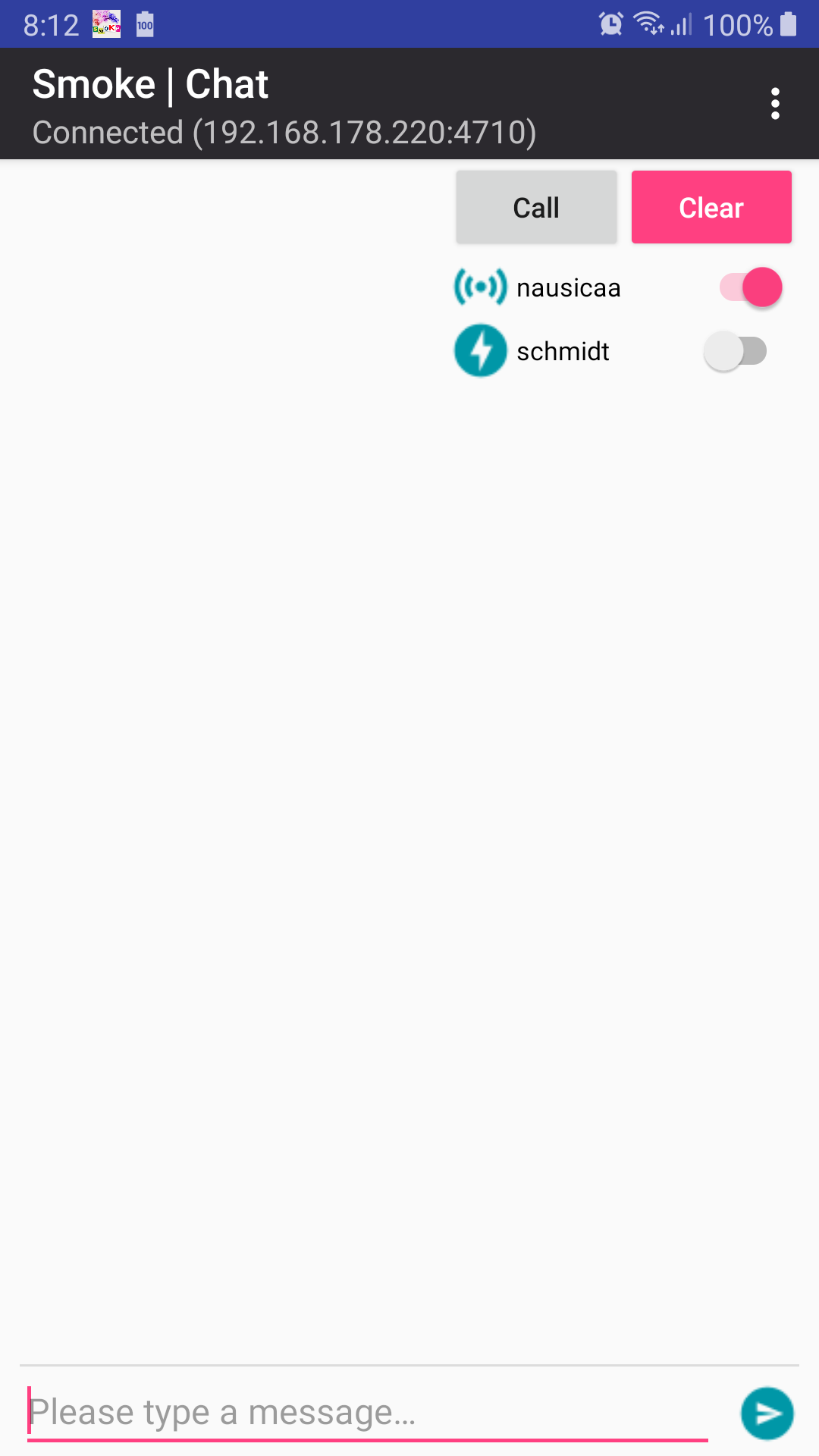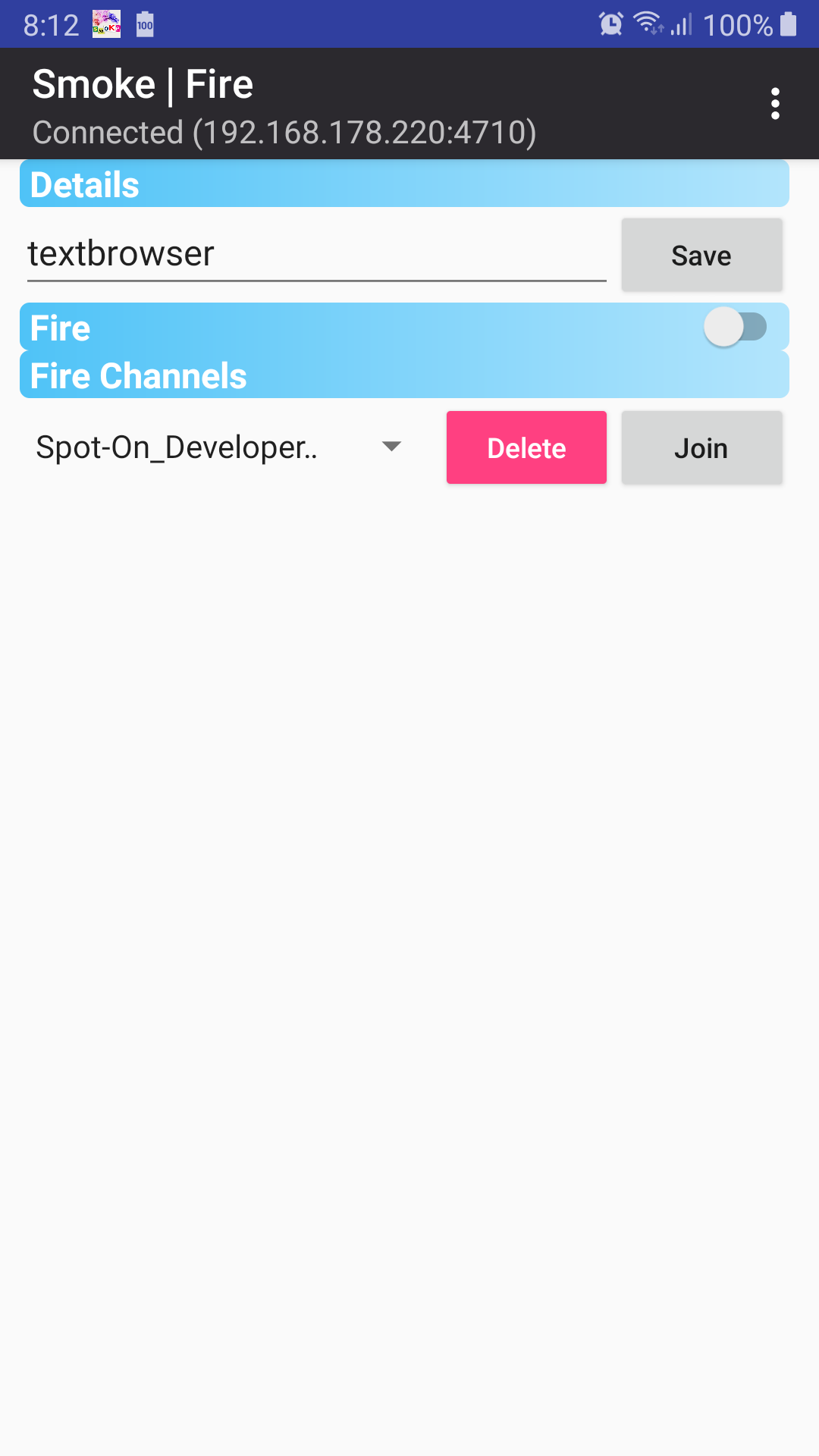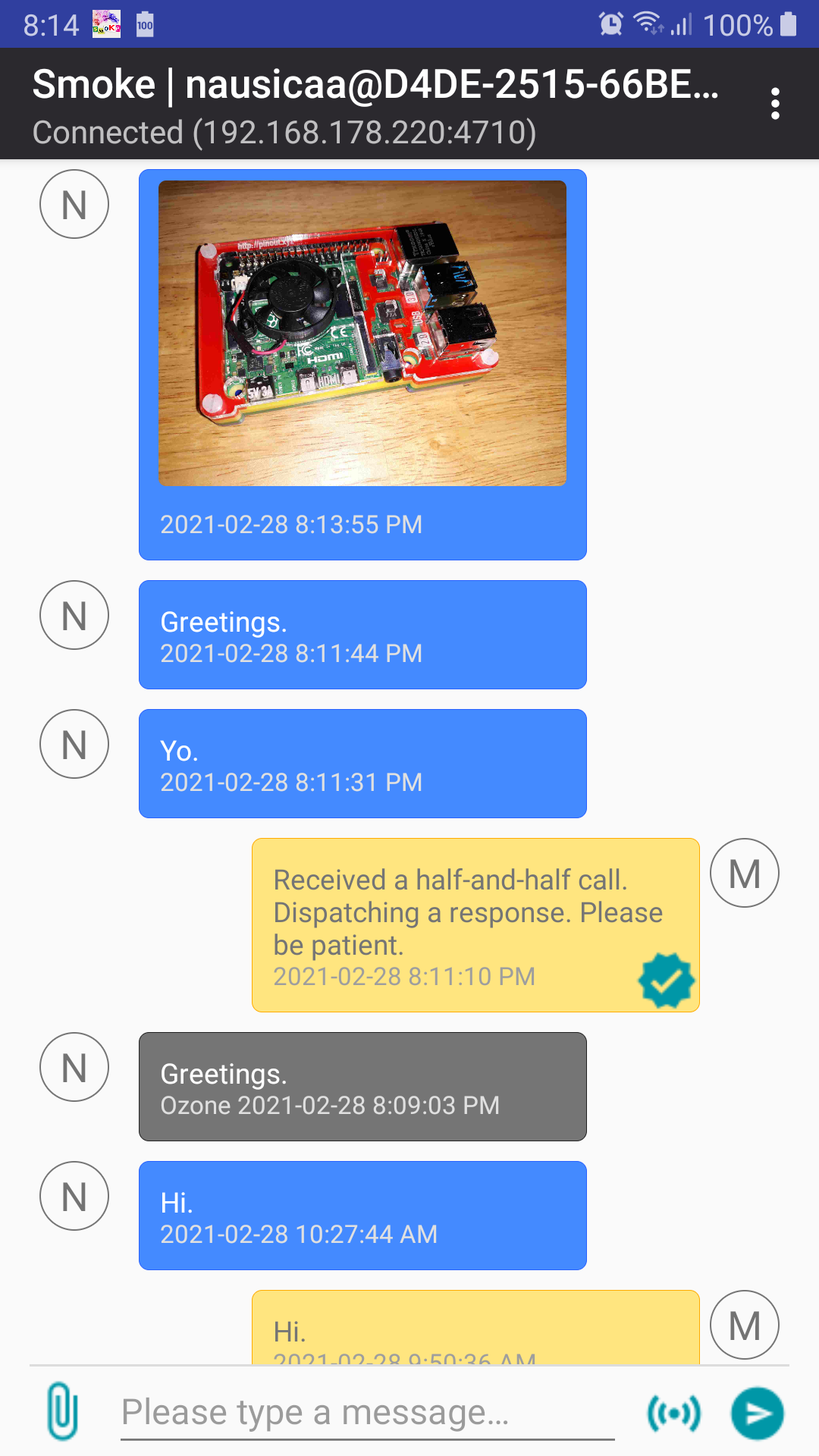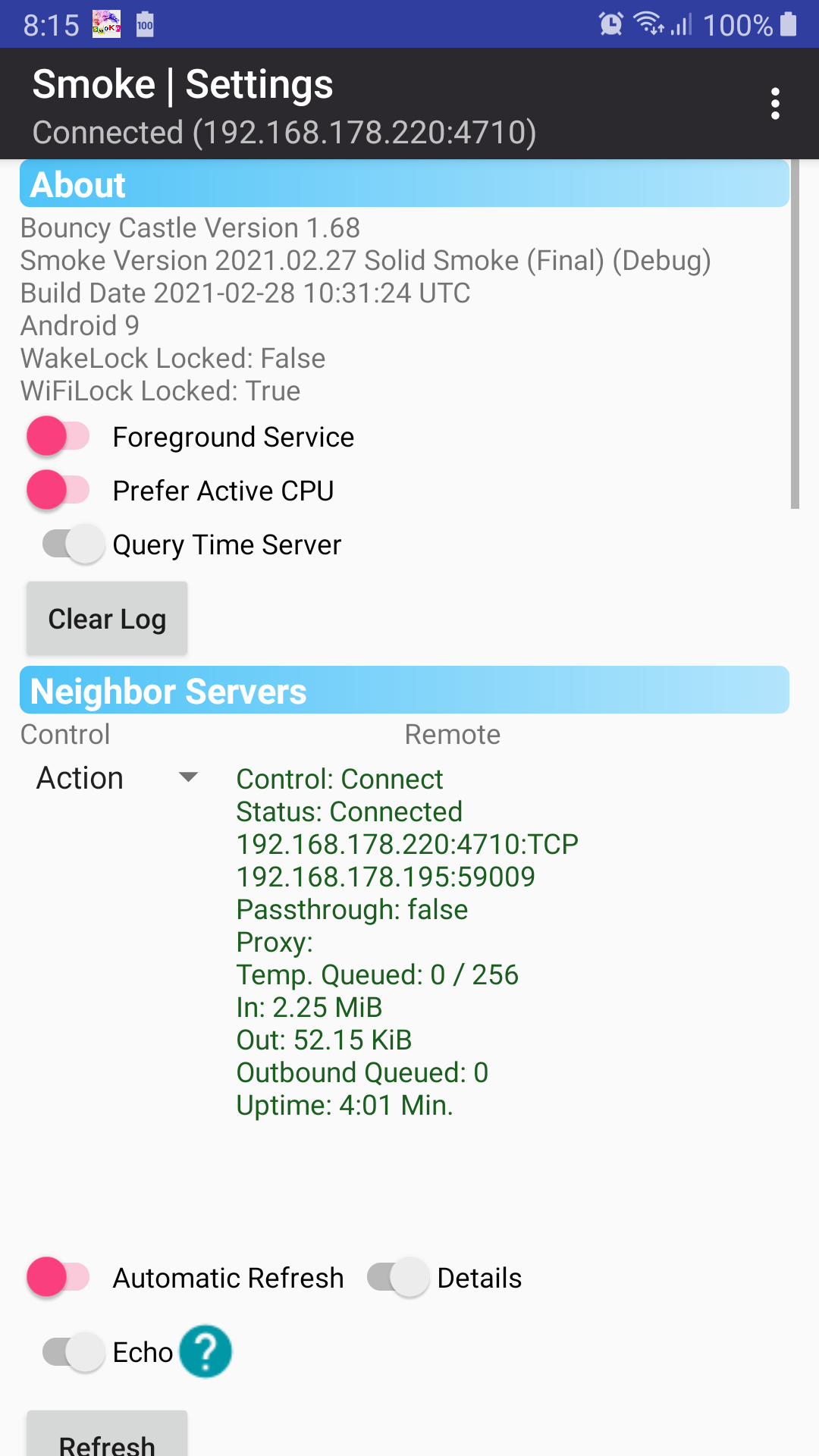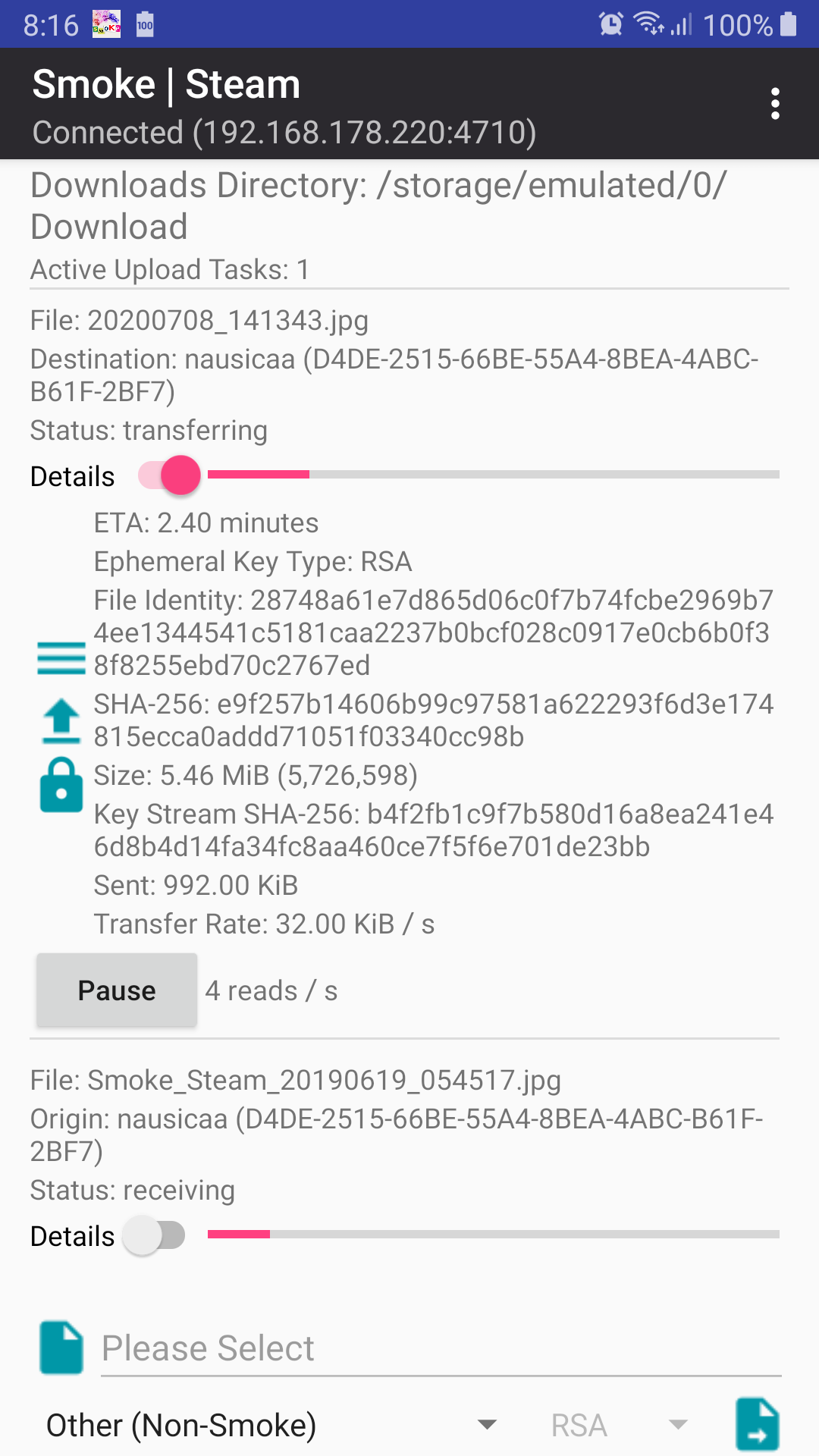 Some of the characteristics of Smoke are summarized below.
Aliases. Preserve your contacts.
Almost zero-dependency software.
Application lock.
Argon2id and PBKDF2 key-derivation functions.
Automatic, oscillatory public-key exchange protocol, via SipHash.
BSD 3-clause license.
Completed.
Content is recorded via authenticated encryption.
Decentralized. TCP, and UDP multicast and unicast.
Does not require Internet connectivity.
Does not require registration. Telephone numbers are not required.
Encrypted communications.
Eventful tasks. Limited polling.
F-Droid.
Fiasco forward secrecy.
Future-proof software.
Introduces Cryptographic Discovery. Cryptographic Discovery is a practical protocol which creates coordinated data paths.
Juggling Juggernaut Protocol!
Manufactured tool tips!
McEliece Fujisaka and Pointcheval.
Message structures do not explicitly expose contents. Header-less protocols! Some messages do include type information.
Mobile servers via SmokeStack.
Obfuscation of resident secret keys.
Optional foreground services.
Optional silence over the wires.
Original implementation of SipHash.
Ozone destinations: private and public repositories.
Post offices for messages of the past.
Private servers.
Public and private public-key servers.
Rainbow digital signature scheme.
Reliable distribution of archived messages.
Reliable distribution of deliverable text messages.
SPHINCS digital signature scheme.
SSL/TLS through SmokeStack.
Semi-compatible with Spot-On via Fire.
Share files with TCP utilities such as Netcat.
SipHash-128.
Smoke and mirrors.
Software congestion control.
Software manual included.
Steam, reliable file sharing. TCP over the Echo!
Steamrolling, or, real-time broadcasting of inbound Steams to fellow participants.
Super McEliece: m = 13, t = 118.
Release Notes
2023.05.10
Android API 28. Older devices may not be functional.
BouncyCastle's Rainbow implementation in version 1.73 is new. Legacy Rainbow is compromised and deprecated. A new implementation will not be included.
Current documentation.
Final APK release. Future releases will be source-only. Future-future releases may include APKs.
Free server has been discontinued.
McEliece is not functional in BouncyCastle version 1.72 and newer. A new implementation is required. This will not be addressed.
New Rainbow parameters. Previous parameters cannot be tolerated.
2023.04.05
Corrected state of Purge Fiasco Keys context menu item in Member activity.
2023.03.30
Forceful termination of TCP sockets on severe errors.
2023.03.15
Emergency initialization of singletons, if possible.
2023.03.11
New Steams will be initially unlocked.
Toggle Lock Status context-menu item in Steam activity.
2023.03.10
Steam is now functional on Android 10 and 13. Do not interpret an integer as a Base64.
2023.01.10
Corrected state of Delete Fiasco Keys context menu item.
2023.01.07
Corrected error text.
Do not disable generate widgets during generation functions. Progress widgets are sufficient.
Enable Participants context-menu items if data are available: Delete Fiasco Keys, Delete Public Keys.
Reverted to Bouncy Castle 1.71 as key generation fails in 1.72.
2023.01.05
Bouncy Castle 1.72.
Happy New Year!
Retain Selection State in Member activity. Session only.
2022.11.15
Bouncy Castle 1.71.
Optional message-read responses.
Steam unlocking.
2022.05.28
Documentation.
Larger touch areas.
New public server.
2022.04.10
A neighbor removed from Settings will be deleted in a separate task.
Avoid accessing encrypted database content if not authenticated: publishing keys, publishing status, retrieving messages.
Corrected RSA key size for Steam: 3072, not 3096.
New parameters for Rainbow. Please read https://eprint.iacr.org/2022/214.
Proper termination of Smoke service.
Terminate connections on TLS handshake errors.
2021.12.25
Enable SO_LINGER on TCP sockets.
Fewer Context objects.
Monospace fonts.
2021.12.17

Bouncy Castle 1.70.
Notify Member Chat of new Steams.
2021.10.05

Concurrent collections.
Introduced new database table index for Member Chat.
Lock safety.
Rainbow digital signature scheme.
Release Ringtone resources.
Sphincs digital signature scheme.
Steam locking, or, prevent the replacement of completed transfers.
Write identities in silent mode.
2021.07.25

Allow removal of Fiasco keys from Member activity.
Concurrent collections.
Decreased lock regions.
Limit execSQL(): cannot be delete / insert / select / update.
Resume All Steams context-menu option.
Silence over the wires. Optional.
Steam percents.
Wrap switches.
2021.07.07

Avoid extending received Steam names.
Bouncy Castle 1.69.
Improved SQLite selection of deliverable messages.
JuggerLi, or, the Juggernaut protocol via xor(public keys).
Prevent duplicate offset acknowledgments in Steam.
Steamrolling, or, sharing complete and incomplete Steams.
2021.03.20

Ignore duplicate calling keys.
Message details in Member Chat activity.
Tulip server discontinued.
2021.02.27

Corrected raw SQLite queries.
Decreased awaitTermination() values. Method may stall Smoke.
ETags for bypassing congestion.
Reliable distribution of deliverable text messages. Requires reinstall as new database fields have been introduced.
Replaced checkboxes with switches.
Tool tips.
Warn if the time server cannot be queried.
2021.02.10

Fewer locks.
Improved process termination.
New server tulip-ipv4.tilaa.cloud.
2021.01.30

Retain Fire messages.
Weak references.
2021.01.20

Corrected reset of local authentication key.
Obfuscate local authentication and encryption keys.
Prepare Steam key container properly.
2021.01.10

Avoid creating tasks for completed Steams.
Free Steam resources.
Sort sub-title IP address.
2020.12.25

Bouncy Castle 1.68.
Corrected comparisons of byte arrays.
Disable context menus if public keys are not available.
Estimate the number of physical cores for Argon2id. Smoke must be reinstalled.
Future-proofing Smoke.
Guard String.indexOf().
Hide ephemeral key types for Other Steam destinations.
2020.12.15

Future-proofing cryptographic primitives.
New Steam database field. Please reinstall Smoke.
Permanent RSA keys are now 4096 bits.
Steam keys: McEliece, RSA.
Super McEliece (m = 13, t = 118).
2020.11.15

Bouncy Castle 1.67.
Disable Chat:Send if there is at least one selected participant without a session key pair.
Efficient ArrayList::remove(). Remove from the end of the array.
Full, reliable, Steam! File sharing.
Improved TLS handshake-completed state.
Issue Settings::prepareListeners() shortly after the Settings activity has been instantiated.
Monitor connection activity; decreased polling.
Notify the user of incorrect device time via https://worldtimeapi.org/api/timezone/Etc/UTC.txt. Optional.
Prepare initial private keys during a public-key exchange.
Provide message-read responses to SmokeStack instances.
Random identities need not be recorded to databases.
Removed SecureRandom.getInstance("SHA1PRNG").
Removed verbose threads and replaced with events.
Request Ozone messages shortly after a TCP connection has been established or a TLS session has been established.
SipHash-128.
Write local identity immediately upon completion of TLS handshake.
2020.04.07

Artificial random-access Steam files.
New Scripts directory.
Retain Steam rates.
2020.04.05

Clear Smokescreen password.
Static variables.
2020.04.04

Bouncy Castle 1.65!
Denote Juggernaut protocol failures and successes.
Kernel broadcast receiver for immediate delivery of internal instructions.
McEliece Pointcheval conversion. Smoke must be reinstalled!
Non-TLS devices.
Partial Steam.
Passthrough devices.
Smokescreen, or, application lock.
2020.01.01

Happy New Year!
New Argon2id parameters.
2019.12.30

Argon2id key-derivation function.
2019.12.10

Corrected the private server authentication protocol.
2019.11.25

Bouncy Castle version 1.64.
Corrected primary key in participants table. Please remove Smoke.
Corrected widget states during initialization.
2019.09.30

Bouncy Castle version 1.63.
Exit option. May be incomplete on some devices.
Guard socket buffers.
New icons.
Save attachments to Downloads (Internal Storage -> Download).
Settings -> View Details functional on Android 9.
2019.04.14

JuggerKnot.
Properly create strings from bytes. Ozones and participants must be redefined.
2019.04.04

Allow removal of participant public keys.
Close Java streams.
Default socket buffer sizes.
Juggernaut Protocol.
Minor Fire layout changes.
Release resources on onPause(), onStop().
Removed deepCopy().
Smoke Alias. Change your credentials while preserving your relationships.
2019.03.03

Allow removal of specific messages in MemberChat.
Decreased maximum buffer size from 32 MiB to 8 MiB.
Prefer delete() over setLength(0) on buffers.
Recycle bitmaps.
2019.02.25

Bouncy Castle version 1.61.
Material icons.
Optional foreground service.
2019.02.02

Array lengths may not be negative.
Automatic removal of incorrect network data. Smoke and SmokeStack.
Corrected conditional in UdpMulticastNeighbor::send(). SmokeStack.
Disable Nagle's algorithm.
Energy and iterations.
Optional initialization of Ozone during neighbor definition.
Orderly shutdown of schedules.
Pause schedules, notify if necessary.
Replaced Spongy Castle with Bouncy Castle. Please replace existing listeners. SmokeStack.
SNAP!
Smaller lock regions.
SmokeStack confirmation for identity sharing of personal identity.
StringBuilder over StringBuffer if possible.
2018.10.10

Compute SHA-512 display digest of PEM(certificate).
Inspect length in String::substring().
New server (tulip-ipv4.tilaa.cloud).
2018.09.01

Allow resending of messages.
Deleting Fiasco keys lacked proper confirmation.
Denote messages which have been read by the recipient.
Denote messages which have been sent.
Depict Smoke failures.
Lock SipHash::hmac().
New participants_messages database fields. Requires new installation.
2018.08.19

Allow generation of only PK material in Settings.
Allow new participant names via context menus; Settings::Participants.
Automatically set the Ozone to the Smoke ID on new installations.
Blocking socket reads.
Bouncy Castle at version 1.60.
Calling via ephemeral McEliece; MemberChat only.
Clear internal messaging log on Chat::Clear.
Corrected faulty widget listeners in Fire.
Corrected slight time differences between time stamps in messages destined for SmokeStacks and messages destined for participants.
Increased key-publishing period from 15 seconds to 45 seconds. Also removed self-publishing.
Material Design-compliant color selections.
McEliece parameters m = 12, t = 68. Compatibility with m = 11, t = 50 is preserved.
Messages in MemberChat will not be duplicated in the Chat activity.
New Fiasco Keys column in Settings::Participants.
New chat-message format. Incompatible with previous releases.
Pause threads when possible.
Periodically request Ozone messages.
Private servers through SmokeStack.
Removed the superfluous name field from the participants database table.
Replaced complex if-statements with switch statements.
Several member variables in the Neighbor class were defined as static. Corrected.
Share capabilities and identities shortly after the SSL/TLS handshake has completed on TCP sockets.
Shared keys without signatures are now accepted and properly depicted in Settings.
Sign encryption and signature public keys as pairs.
Singular member pages. Single image attachments included.
Uniquely-persistent Fire identities.
Viewing of member details now available via Settings::Participants context menu.
2018.04.04

LocalBroadcastManager instances.
Single ID per Fire.
2018.03.20

Congestion-control improvements.
Corrected nested locks (isNetworkConnected()).
Insert-or-throw SQLite database queries.
The ProgressDialog class has been deprecated. ProgressBars have now been added.
The replace method may not be available in a hash table; put().
2018.03.03

Attempt socket connections regardless of WiFi availability. Insight.
Automatically import rosemary-ipv4.tilaa.cloud:4710 on new installations.
Corrected local echo behavior.
Echo Fire, if possible!
Fire Digest Key and Salt fields may not be empty. Corrected.
Host translation must be performed before every socket connection attempt.
Large-area congestion-control mutex.
Partition messages over UDP links into 576-byte datagrams.
Provide the HMAC algorithm during identity distribution.
The Call widget should only be enabled if a network is present.
Wonderful documentation.
2018.02.10

Allow empty Fire participant names.
Allow purging of neighbor queues.
Automatic, oscillatory EPKS.
Avoid non-essential operations if network channels are not available.
Depict corrupted database entries.
Enabled Nagle's algorithm.
Introduced McEliece-Fujisaka via Bouncy Castle. Cross-communications supported.
Minimum password length set to one character.
New Fire key generation. Destination tags are required for SmokeStack.
Participant name changes should be reflected in the Chat activity.
Trim Channel, Digest Key, and Salt values on Fire.
2018.01.05

Fire, or, group communications. Compatible with Spot-On.
Increased lane widths to 8 MiB.
2017.08.19

Set a non-zero SO_TIMEOUT as some devices do not unblock socket reads after sockets are closed.
2017.07.20

AndroidManifest.xml was missing WakeLock permissions.
Do not attempt to send duplicate data.
Do not specify timeouts in socket reads as separate threads are responsible for socket reads.
Removed all Thread.sleep() instances.
Replaced StringBuilder Neighbor member with StringBuffer. StringBuffer is thread-safe.
Signed release.
WiFi lock.
2017.07.16

Less activity on disconnected neighbors.
2017.07.09

Detect existing key pairs in writeParticipant().
Smaller database transaction areas.
2017.07.07

Do not automatically purge the temporary identity for offline message retrieval unless some inactive period has elapsed.
Issue SQLiteDatabase.update() whenever a participant is added. This will allow for replacing of participant names without removal of existing data.
SmokeStack as a private public key repository.
2017.07.04